Workshops and Live Webinars
We are delighted to run the first general insurance compliance workshops and live webinars in the UK that were accredited by our industry's professional body, the Chartered Insurance Institute. The workshops and live webinars typically have three or four main sessions, led by an appropriate expert from the UKGI team, covering the latest regulatory hot topics.
The booking form for our next series of workshops live webinars is now available – see below for the details of the topics that will be covered, the learning objectives for each webinar and where to find the booking form.
For those of you who have not attended one of our workshops before, this is a great opportunity to
listen to expert speakers discussing compliance issues;
find out what these mean for your business; and
ask questions which will be followed up with you individually.
Please visit the Workshops and Webinars page of our Compliance Consultancy Services for more information about the format of these events.
If you would like to be added to the email notification list for details of dates, please click here or call us on 01925 765777.  You can also ring this number if you wish to discuss the content and objectives of any event in more detail, to help ensure it meets your requirements.
Booking is now open for our Spring 2021 Live Workshop Webinars
We are pleased to let you know the dates and details for our CII accredited workshop webinars taking place this spring.  We have taken the decision, in the interests of safety, to once again run the workshop as a series of webinars of between 30 and 45 minutes.  Each webinar will cover a different topic, as outlined below and will start at 10.00am.
Delegates participating in the accredited Customer Workshop Webinar Programme can claim up to 2 ½ CPD hours towards the CII CPD scheme.
£200 per delegate standard price* (Existing UKGI clients see below)
---
Webinar Agenda
WEBINAR 1 – TUESDAY 20
th

 APRIL AT 10AM
FCA SUPERVISORY FOCUS – A PRACTICAL GUIDE

This session provides an insight into the supervisory focus of the Regulator in relation to the General Insurance Intermediaries portfolio.

We will consider some of the key areas outlined by the FCA in their recent portfolio letter, how their supervisory focus links to the delivery of their overall objectives and to recent regulatory changes, giving consideration to some of the key actions that firms should take in response.

In addition, we will have a look at the recent Dear CEO letter in respect of client money handling arrangements and consider not only what this means for firms with client money permissions, but also how those firms who can operate on a risk transfer only basis can identify some of the key considerations that affect premium collection.

By the end of this session delegates will be able to:
Describe the key areas of supervisory focus areas for the FCA
Explain how these are aimed at driving good customer outcomes
Identify how these areas of focus could impact their firm and any actions that they need to take
---
WEBINAR 2 – THURSDAY 22
nd

 APRIL AT 10AM
THE ROLE AND IMPORTANCE OF PRODUCT GOVERNANCE

This session provides a practical view of the importance of Product Governance for both a manufacturer and a distributor and the role that it plays in providing assurances in a range of regulatory initiatives. 

We will consider the key elements of an effective product governance framework including product design, ongoing monitoring and review and the types of MI that support that oversight whilst highlighting how recent regulatory changes link back to the implementation of an effective product governance framework and processes. 

By the end of this session delegates will be able to:
Describe the key features of a product governance framework
Explain how effective product governance processes and controls can mitigate the risk of customer harm
Explain the FCA's intentions in relation to pricing practices, value and distribution chain and the impact on product governance.
Identify how the product governance rule changes impact their business and where improvements might need to be made
---
WEBINAR SESSION 3 – TUESDAY 27
th

 APRIL AT 10AM
BUSINESS RESILIENCE

In this session we explore what business resilience means in real terms, firstly, taking a look at the FCA's concerns and findings following its recent financial resilience surveys. We will also consider operational resilience and the role of an effective risk management framework in building a sustainable and resilient business.

Finally, we will look at planning for the worst-case scenario and the FCA's views on wind-down planning.

By the end of this session delegates will be able to:
Describe the implications of the findings of the FCA's most recent financial resilience surveys and explain how this increases regulatory focus, particularly in respect of client money arrangements.
Describe the benefits of effective risk management and explain the positive outcomes for firms and their customers from implementation of an appropriate and proportionate risk management framework.
Explain how business resilience and regulatory requirements work hand in hand.
---
WEBINAR SESSION 4 – THURSDAY 29th APRIL AT 10AM
HOT TOPICS – ROUND UP OF REGULATORY UPDATES, HOT TOPICS AND ISSUES
This is our usual regulatory round-up session looking at the topics that are hot around the industry. 
Among other topics, this will include an update following the extension of the implementation timelines for Pricing practices, key upcoming dates for your diary including value measures and reporting requirements, broker Professional Indemnity insurance and the implications of pandemic exclusions, the release of the vulnerable customers finalised guidance plus a look at, RegData and the importance of keeping your Firm Details up to date. 
By the end of this session delegates will be able to:
Explain the issues relating to the FCA's new RegData platform
Identify and remedy any issues in relation to the upcoming general insurance value measures reporting requirements
Describe other key sector developments including FCA updates in relation to emerging sector issues and vulnerable customers
---
Webinar Learning Objectives
To support CPD, we include learning objectives for our workshops.
Overall objective for the workshop
By the end of the event delegates will be able to describe the implications of recent regulatory developments, explain the importance of these changes and how they are aimed at driving positive outcomes and, where applicable any timescales for taking action.
We very much hope that you will be able to join us.
20th April 2021
22nd April 2021
27th April 2021
29th April 2021
10.00am start
£200 per delegate standard price*
* Pricing
The price shown is the standard full price per delegate for the event.
Existing clients who have included delegate places within the package of services we provide to them will not need to pay anything for those pre-included places – when booking please use the Member Code that will be provided to you.  If those clients wish to book extra places they would benefit from a discount on the standard price for the extra places (a cost of £150 per additional place rather than the £200 per delegate standard price), the discount again accessed via that same Member Code.
Existing clients who have not included delegate places within the package of services we provide to them can book places and will also benefit from the same discount on the standard price for these places (£150 per place rather than the £200 per delegate standard price), that discount again accessed via the use of a Member Code.
CPD
These workshops and webinars qualify towards your CII member CPD scheme requirements and your FCA insurance distribution CPD requirements. Certificates will be emailed to delegates following each event.
Refreshments
The face-to-face workshops include pre-event refreshments on arrival, a refreshment break and lunch after the event, providing a great opportunity to network with other delegates.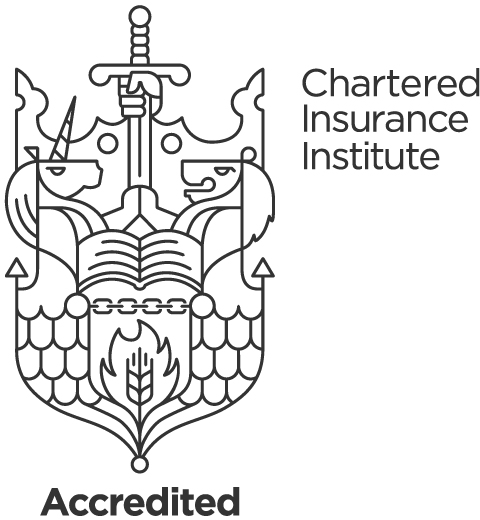 Demonstrates the quality of the training provider's course and confirms that it meets CII member CPD scheme requirements.