The Financial Ombudsman Service (FOS) has published its annual complaints data from April 2022 / March 2023 along with insight into the common problems raised by consumers. These new figures show that current accounts, credit cards, car/motorcycle insurance, hire purchase (motor) and buildings insurance were the top five most complained about products in the 2022/23 financial year.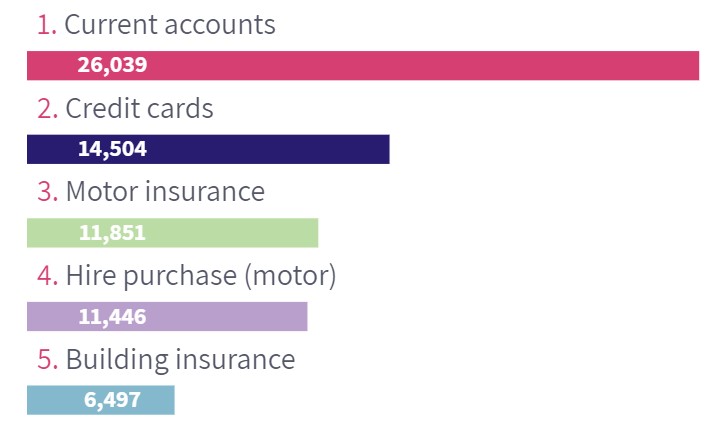 Source – Financial Ombudsman Service "Annual complaints data and insight 2022/23"
Analysis of the figures published highlights the following trends:
Over 26,000 new cases complained about current accounts.
Credit cards were the second most complained about product.
FOS received 27% more complaints about car/motorcycle insurance, and this was largely due to insurers delaying paying out claims.
There was an 87% increase in complaints about hire purchase (motor), which was mainly due to a rise in complaints about commission, fees and charges.
Buildings insurance complaints increased by over a quarter, due to an increase in disputes about declined claims and delays, as well as claim values.
There should perhaps be little surprise that these product categories remain more or less the 'most complained about', as four of them are probably the most common financial services products that the public buys or operates – current accounts, buildings insurance, car insurance, credit cards.  It would perhaps be more interesting to see the complaints numbers positioned as a percentage of the total numbers of these products held by the UK public.